601st Original Squadron Plaque Found in London
Donated to the Nuthampstead Airfield Museum
Identification help is needed!! We are trying to locate the building where this plaque was found and what it was used for during WWII. Could it have been the Grosvenor on Park Lane? Any help would be most appreciated!
Below is a photo of a 601st Squadron plaque which was recovered from a building in London, England undergoing refurbishment in the late 1980's.
This rare plaque was just recently donated to the Nuthampstead Airfield Museum, Nuthampstead, England by the man who found it all those years ago. He explained; "25 years ago I was a mobile sandblaster... and in a building in London, stuck on a pillar in the basement was a metal hand painted plaque with the emblem of the 601 Bomb Squadron, with title 398 Bomb Group. I don't know if the building was a dance hall or base for the squadron. I would love to find the painter and wonder if he is still alive."
The Nuthampstead Airfield Museum and the 398th BGMA are eager to find out more about this plaque, especially which building it was found in. Our donator tells us he cannot remember what part of London he was working in back then but he does remember the building had a very wide staircase down to a lower area where he found the plaque attached to a large column.
If anyone recalls such a building please contact us!
We are guessing it might have been a Red Cross Club. We also had very good suggestions that it could have been the Grosvenor on Park Lane (as it was used as an US Officer's Club during WWII), or possibly the London Stage Door Canteen. If you think you can help us, please contact the Nuthampstead Airfield Museum or our Photo Historian - Geoff Rice.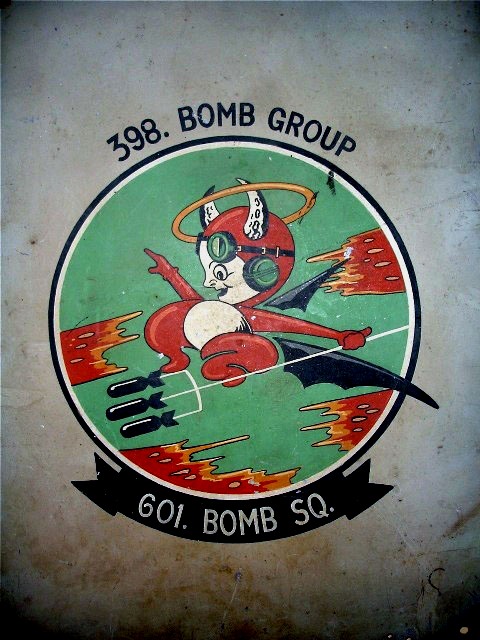 601st Squadron Plaque Found In London

The plaque is painted on a steel plate which measures 13 inches x 17 inches